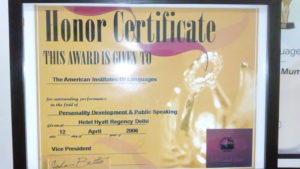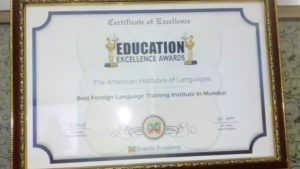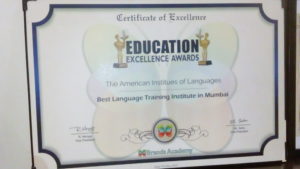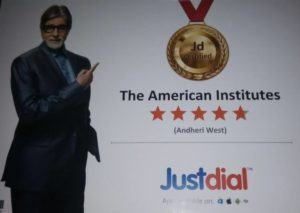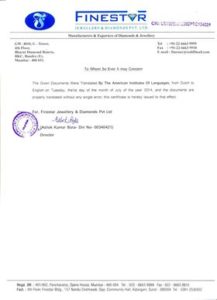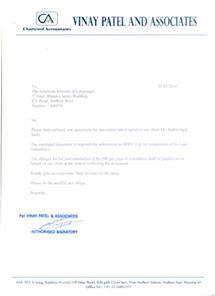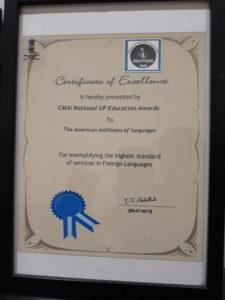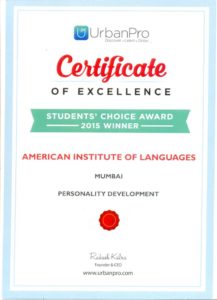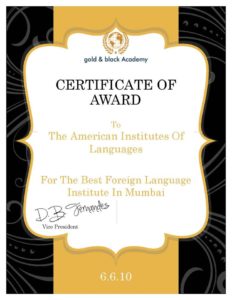 Best things about The American Institute
1. Excellent support and mentoring from the teachers.
2. Comfortable and friendly environment.
3. Flexibility on timings.
4. The place is connected to all modes of transport.
It is the best place to learn Spanish…
Salloni Shah
---
The best institute to learn Spanish language, the teacher pays a detailed attention to every candidate. I owe my success to them. Thanks a lot to all of you.. This would have not been possible without you guys.
Sushma Shirsat
---
The management at the American Institutes is very understanding and flexible, so if you miss any sessions or are unable to get up to speed, you can talk to your instructor and extend the duration or arrange for an extra class.
Kajal Raj
---
I never thought that the learns would be so interactive, it was a great learns. I learned Chinese language in this stage and I speak Chinese very good. Very big thanks to sir, who taught me in an excellent way. Thank you.
Lucky Nalsar
---
Good experience to learn Arabic language in The American Institute.
Samina khan
---
Very Nice Experience. Good and Helpful staff. Thanks to Sheweta Mam for teaching us from scratch. German A1 seems easy because of her.
Prachi Sinha
---
The American Institutes is really good. I'm doing my Spanish level A-2 I did my A-1 from here only.The teacher that I'm learning from is one of the best makes learning simple….it's always a fun class to learn.
Chelsea Almeida
---
The American Institutes is a good place to learn foreign languages. I learn German there and the teachers are very cooperative and friendly. The institution also is very adjusting and gives the person a batch that they want. The admin department is also very polite. One can surely go for this institution.
Priya Parekh
---
If you are thinking to join any class for IELTS in Mumbai, I would recommend American Institutes. The reason being experienced faculties having more than 30 years of experience. Here they will guide you in clearing the IELTS with really good score provided you also work hard for the same.
Harish Parekh
---
Excellent class for learning Chinese and amazing experience with the American institutes. professors are very helpful and staff is cooperative and would like to join for Spanish language.
Prena Gandhi
---
I learnt Spanish here…the course was very practical and the trainer was very nice. Genuine interest in teaching. great place and good learning atmosphere. Classroom and teacher for Spanish is excellent.
Samy Davis
---
I did my american accent training in here and it turned my accent into complete american accent.
Khushal Gandhi
---
Joined her to learn Chinese…i found the training to be excellent….the trainers and the front desk are good……..
Narayan Joshi
---
American Institute for foreign languages is a good institute for learning Spanish language Classes.
Muskaan Khan
---
Good teaching, excellent classroom and good institute to learn French language.
Riyaz Khan
---
The best classes ever. i joined the American institute couple of months before n here i am the last day of my class. sir, who taught me Spanish was like a friend to me. i had my best time of the day in the class. its just not a class but a family. i really loved the time i spent here n i think all of u there who want to learn languages must come n join this institute.
Mahima Aherkar
---
I had joined the american institute for Arabic classes, level 1. The Arabic professor is very knowledgeable and teaches very well. He went through the basics step by step. It all comes together as progress through the course. Practice and homework was given as well. I have learnt a lot during this course and I am looking forward to apply it. The institute is accommodation and makes adjustments so that you can study well. All the administrative staff is courteous and supportive. Additionally this classes is situated close to Andheri station and therefore travelling becomes very easy.
Joel D'souza
---
I am learning German A1 level. Its interesting and fun to learn this language.
Ritesh Fadtare
---
These classes teach with a very practical approach which helps the students be confident and talk better at the language.
Pamasha Naik
---
It was really amazing experience for me I liked to learn Chinese with Anil Sir. It is one of the best Institutes to learn mandarin.
Parth Vyas
---
It was great experience studying Spanish from American institute. The faculty and teaching staff is very cooperative.
Alisha Shaikh
---
I joined the American Institute to learn French. I completed the A1 level here and acquired good proficiency in the language. I am now skilled in reading and understanding basic French grammar.
Nupur Patny
---
The Spanish trainer at The American Institutes had a very good systematic method of teaching Spanish language .it was difficult for me to read write and speak in this language but now i can read write and communicate very well .
Sanvi Joshi
---
Great place to learn German language. Had a good experience learning here and the faculty is good and friendly.
Yash Kumtakar
---
It was a pleasure being guided by you. The time we all spent together time will be memorable……..You taught me French friendly ,After being guided by you I have starting thinking by head. I rate you 100%
Preeti Singh
---
The seven day course has helped me lot and it has made a great changes inside me. I have learnt many things, from this class. Earlier i used to fear to share my knowledge with people but because of zafar sir and American Institute, I am able to talk to People very fluently. this class developed my personality and has removed the stage fear from me. This class helped me to improve my way of interacting with people.
Sanjeev Gaikwad
---
It was my good experience in my life. I came to learn Chinese Languages now I have learned good the american institutes has good idea to learn studies.
Dinesh Das
---
It was really amazing experience for me I liked to learn Chinese with Aftab Sir. It is one of the best Institutes to learn mandarin.
Laju Mehta
---
It was an amazing experience to learn Spanish in American Institute. It is one of the most co-operative Institute and special thanks to sir. He is very confident with his language and he teaches very well, i would like to continue my others Levels with him.
– Nirali Bhansali
---
"It was a well organized and structured class. You are given time in the class itself to learn words which helps a lot in the learning process. A lot of exercises are also given which improves your understanding of the language."
– Ruma Chaudhary
---
"I have been very much passionate about learning languages but because of my busy schedule was, not able to join any classes; specially my curiosity was to learn French language, this curiosity of learning increased by the time which landed me over here. Learning French language was not so easy but aftab sir the great professor and trainer has put endless this effort in teaching me. This language he has been very much supportive and has helped me to learn this language."
– Aakanksha Khamkar
---
"I was eager to learn one foreign language, so I choose German. I was not having a single idea where to enroll. Then I found American institute on the Google sites. I called them and they were too helpful to make me understand about this. Teaching faculty is too good and even staff is polite. Teachers co-operate with you, and also one won't feel that he is learning any different language very simple of useful as well as important notes is provided. Fees are also suitable to your pocket. Thanks a lot all staff as well as my French professor."
– Swapnil Joshi
---
"Experience at American institute First of all thanks to all sirs and my friends, it was my good time in American institute. I learned something which was missing in me. I completed myself. I learned how to speak and how to eat, how to developed good attitude. Thanking American institute for changing & developing my personality."
– Ajit Rathod
---
"It's been a great learning experience, . I learnt a great deal not only regarding our profession but also personal lives. I sincerely thank Mrs. khushi and Mr. Aftab for their guidance and every detail and experience they have shared with us. I have been a great support and was a pleas core working with them."
– Jalpa Sawant
---
"I had a lot of fun. I have learnt Arabic languages regarding business purpose, I like to thank Mr mukhtar who teaches me very well ,bocoz that I speak with Saudi clients. Thank you very much to help me."
– Rakhi Shah
---
"I learnt Spanish here…the course was very practical and the trainer was very nice. Genuine interest in teaching. great place and good learning atmosphere. Classroom and teacher for Spanish is excellent."
– Isha Gupta
---
"There month before I join to learn A1 Level German at the American institute. Had lot of fun all staff was very Friendly, I would appreciate to Bhattacharya sir who instructed me very good, I think this was a good time."
– Payal Pathak
---
"I truly thank you for your teachings and because of your teachings today I feel very proud and got 91% A1 Level German at Max Mueller Bhawan I thank you sir for your teachings. Thank You!!"
– Sumit Talreja
---
"The class was really good excellent. The teacher and sir also good and excellent in teaching I learned Chinese, now can speak fluently, Even now my all problems are solved."
Aarav Shah
---